Schatten 'Dualie' Player Uke Pickups
Available In Two Models - One for Inside Mounting, One for Outside Mounting
| | |
| --- | --- |
| Dualie Player Inside'R | Dualie Player Outside'R |
Upgraded And Redesigned

More Responsive
Higher Output
Lower Profile
Lighter
New More Attractive Appearance

When we first debuted the original "Dualie" pickup approximately ten years ago, it was designed to be used on acoustic and classical guitars.......And then a funny thing happened: musicians discovered that they could stick the Dualie onto just about anything and that it worked and sounded great. Basically, if you have an acoustic instrument,such as a ukulele, then the Dualie will work well on it.

Through the use of twin piezo elements we have been able to greatly enhance this pickups' resistance to feedback, particularly when compared to other surface mount transducer pickups. It is light in weight (a couple of ounces), and does not inhibit top movement or vibration.
Buy Now
Details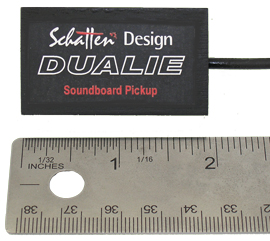 The "Dualie" is a surface mount piezo pickup. It is approximately 3/8" thick, 1 inch wide, and 2 inches long....a little bit smaller than the size of what used to be a 10 cent box of wooden matches.
This pickup has been designed to operate properly and sound terrific without the use of a preamp when plugged into any 'normal' amp (guitar amp, bass amp, etc.). As with any pickup, the sound can be further enhanced with an outboard preamp. If you require the added ability to be able to plug directly into a P.A. or mixer then you may wish to add either one of our new Mini Pre belt clipable preamps to your pickup system.
It is light in weight (a couple of ounces), and does not inhibit top movement or vibration.
Pictures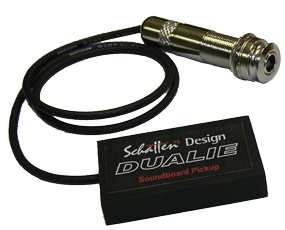 Dualie Inside'R Player
---
Dualie Outside'R Player
---
Technical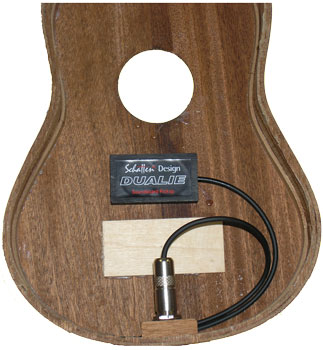 The Dualie Inside'R comes prewired to a take-apart endpin jack. All that needs to be done is to drill a hole in the end block to push the jack through. The endpin jack tightens securely from the outside and provides secure attachment for your strap. For inside installation, the Dualie comes with a special high stick putty that will keep the pickup in place without any difficulty for years.

Inside'R - View Installation Instructions (pdf)

---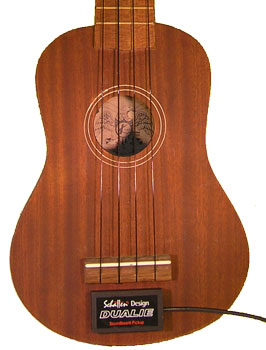 The Dualie Outside'R may be used on any small to medium sized soundboard. The pickup attaches quickly and easily with our special supplied low residue putty for outside mounting. The Dualie Outside'R comes complete with a 10 foot Mogami shielded cable and a standard 1/4"heavy duty output plug and is ready to plug right into your amp.

Outside'R - View Installation Instructions (pdf)

About Pickups and Amplification
Terminology
Passive Pickup - A piezo pickup.
Impedance - To simplify things as much as posssible we'll say that impedance refers to the range in which an amplifying device can 'hear' a pickup plugged into it.
Preamp - A device specifically designed for use with piezo pickups that increases the signal strength and lowers the impedance of a passive pickup.
Active Pickup - A piezo pickup with an attached preamp.
Microphone Preamp - a device that may be built into P.A.systems and mixers that is designed to work with microphones. These units will not generally work with passive pickups.
'Normal' Electric Guitar Amps: A passive pickup has an impedance of approximately 2 mega ohms (2 million ohms) which virtually all 'normal' electric guitar amps can generally handle without issue.
'Acoustic' Amps: may or may not require the use of a preamp with a pickup and that will depend upon whether or not there is a special built in preamp section to that amp that specifically allows for the choice in plugging in either a passive (non-preamped) or active (preamped) pickup. This choice is quite often in the form of pushbutton on the amp's control panel. Many acoustic amps show a selection that may indicate the choice of 'high impedance' and 'low impedance'.
Low impedance in these instances usually indicates that in this range the amp will handle an impedance of 1000 ohms or less - which will allow active pickups with preamps to be used.
High impedance in these instances may indicate an allowable impedance into the 2 or 3 mega ohm range - which will allow passive pickups to be used. Or it may indicate a maximum input impedance allowed of 20,000 ohms or less - which will handle magnetic electric guitar pickups but not passive pickups. You should carefully read the technical specifications of your acoustic amp in order to see what it will do.
P.A. Systems, Mixers: all of these units will require the use of a preamp between themselves and a passive pickup. Microphone preamps built into P.A.'s and mixers are not designed for use with passive pickups and will not work properly.
Computers: Due to the vagaries and variables inherent in the sound cards found in computers, the only thing that we can advise is that a preamp will almost certainly be necessary.