New
RG-03M - Combination Pickup and Condenser Mic System -
Now Available
Designed For 'Dobro' Style Spider Bridge Resonator Guitars
Introducing our newest model of resonator pickup for spider bridged instruments, the RG-03M. By combining an interior mounted powered condenser mic with our proven RG-03 sensor, we have produced a reso guitar system that provides a fullness of sound that was not possible before. In addition to the internally mounted powered condenser microphone, a new 2 channel Mini Pre 2 outboard belt clipable preamp powers the mic and preamps both signals.
Existing RG-03 Owners - We haven't forgotten you. M Kits are available to upgrade your existing Schatten RG-03 pickup. The information on the M Kits is available under the 'Technical' tab on this page.
Other brands of resonator pickups - The RG-03 M-Kit upgrade will work properly with other brands of resonator pickups.
Notes:

If you already have a magnetic pickup, you have two different choices for upgrading:
1) For high to extreme stage volumes add an RG-03 under cone pickup to the existing magnetic and then preamp the two signals with our new Mini Pre 2 two channel preamp.
2) For normal volume levels use the RG-03 M-Kit to add the mic, 2 channel preamp, cables and installation materials.
to: RG-03, RG-03 Std, RG-03 Pro
Details
RG-03M System
The RG-03 pickup sensor is installed on the underside of the resontator cone.
The M powered condenser mic attaches to the well wall with our special mounting putty or with one of the supplied 3M VHB adhesive pads. The microphone mounting also has a through hole so that it can be attached to the well wall with a screw, if desired.
The Mini Pre 2 is a two channel outboard belt clipable preamp. Channel One is used to preamp the BJ-02 piezo sensor. Channel Two provides both the power for the condenser mic and preamps the mic signal as well. Input into the Mini Pre 2 is via a stereo 1/4" jack. Output from the Mini Pre 2 is via a mono 1/4" jack.
The Output Jack: The basic RG-03M system comes prewired to a high quality endpin jack. This jack may be mounted through the end block of an instrument, providing a strap button or it may be used as a standard output jack and mounted through the side of an instrument. If you don't want to drill any visible holes in your instrument, the endpin jack can also be used as a 'hanging jack' and mounted hanging from the existing strap button. The output from the jack is stereo (2 separate signals) and an 18" long stereo 1/4" cable is provided to take the signals from the output jack to the Mini Pre 2.
Pic's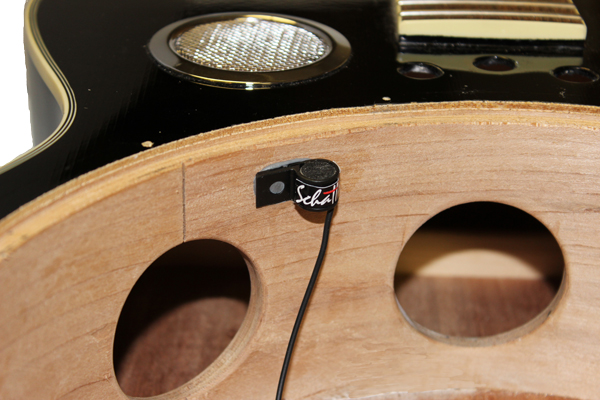 RG-03M Condenser Mic
---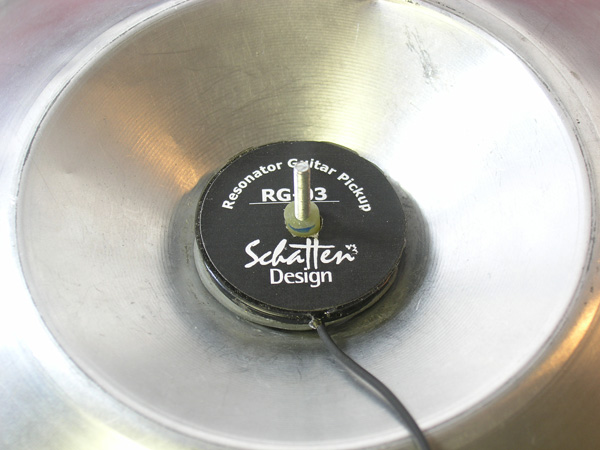 RG-03 Sensor (showing the mounting position on the underside of the cone)
---
Tech
RG-03M Installation Instructions (pdf): Installation Instructions
---
M Kits For Upgrading Existing RG-03 Pickups
RG-03 M-Kit - Upgrade for all RG-03 pickups:contains new jacks, M microphone, Mini Pre 2 preamp, stereo connector cable, mounting putty, 3M VHB adhesive pads, instructions.
Note: A soldering iron, a bit of solder and some basic hand tools are required for changing the jacks for the M Kits. Installation is straight forward and should take less than 45 minutes.
RG-03 M-Kit Installation Instructions (pdf): Installation Instructions
---
Sound
Sound samples for the RG-03M will be posted shortly.
Special thanks to Dan Walsh for sending in these samples. Dan's reso is a 1985 Dobro with a quarterman cone installed. The pickup is our RG-03 and we'll let him tell you about the clips. Here you go......
This first clip was recorded with a Fender Deluxe Reverb Re-issue amp. The dobro was plugged directly into the amp. Treble on the amp was set at 6 and the bass was set at 3. The amp was mic'ed with an Audio Technica AT 4033. It was recorded into a Roland VS 2480 digital workstation with absolutely no EQ or effects added. The sound from the pickup to the amp is as true as it gets. I can't believe how true the sound of the dobro is thru the amp as it is when I mic it. It's amazing............
RG-03 - Dobro Sample One
For the second clip, I plugged the Dobro directly into the VS 2480. Again there was absolutely no EQ or effects added. Once again I can't believe how true the dobro sounds with this pickup.........
RG-03 Dobro Sample Two
---
Thank you to Jason Fowler for the following MP3 (played on a National Style O)
---
Here are a couple of videos featuring me playing my Wechter/Scheerhorn squareneck with the RG-03 installed. The mics were basically "decorative." The Schatten gives me a well-controlled sound in an instrument that is typically a nightmare to amplify. Thanks, Schatten!
Good Kings Highway - RG-03 Spider Bridge Reso Pickup
Benediction - RG-03 Spider Bridge Reso Pickup
Enjoy!
Bob Knight
www.newcommand.info
Guitar, bass, mandolin, bouzouki, lap steel,
Dobro, vocals, arranging, production, hand percussion
"Guess what?! I've got a fever, and the only prescription... is more cowbell!"
Artists
I chose the Schatten pickup simply because the RG in the RG-03 is the same as my initials, so I took it as a sign that I was meant to try this pickup.....just joking. I chose the Schatten pickup simply because the RG in the RG-03 is the same as my initials, so I took it as a sign that I was meant to try this pickup.....just joking.
The passive RG-03 is a great pickup for resonator guitar. I have one in my wood bodied spider bridge resonator and it provides a full bodied signal that gives a pretty close representation of a resonator cone.
I haven't had any problems with feedback playing either through amplifiers or live with PA systems.
I play in a three piece folk and blues group ("Latitude") that plays at a variety of venues and need a no-fuss pickup system as we often can't be guaranteed what kind of sound system will be available.
The instructions are clear and concise and it includes extra installation components that competitors seem to overlook. The people at Schatten were also very helpful in negotiating postage methods over here to Australia and the pickup arrived a lot earlier than expected!!

Richard Galluzzi "Latitude"
---
Chris Kleeman is "Vermont's best-kept blues secret... a virtuoso guitarist and singer... red hot, real and electrifyingly talented..."


....."The Schatten RG-03-A is the only pickup I have ever used that faithfully reproduces the actual sound of my 1933 National Steel Duolian... No other pickup has ever done that!"
"Thanks, I am really getting happy with this pickup!"
Chris

Chris Kleeman is a master blues singer and song stylist. A performer of great energy and focus, Chris is based in the Green Mountains of Southern Vermont. Now, you may say, a Blues musician from Vermont??? You better believe it! In 1970, B.B. King produced Chris' first album.....


http://www.chriskleeman.com
---
Hi Les,

I just wanted to let you know that I played the new reso bass at our blues festival at the weekend (see photo). The first night it was plugged straight into the PA, it didn't even need a DI box, and the next day I plugged into a borrowed combo amp.
On both occasions the pickup behaved impeccably and both times other bass players in the audience complimented me on the bass sound.
Can't wait to try the pickup in a biscuit bridge!
.....I really am pleased with the RG-03 in the bass. It's already my pickup of choice for spider bridge instruments - it sounds good, it's easy to install and it's hassle-free because it doesn't need a preamp.....
Peter Woodman

---
Rod,
I have installed the RG-03 in my National Estralita. What a wonderful pickup...! Natural cone sound and mid-range bite and definitely the best resonator pickup I have tried to date. I appreciated the ease of installation too. I have to get one for my Style 1 Tricone next !
Sincerely,
Mark Searcy
www.marksearcy.com

---
About Pickups and Amplification
Terminology
Passive Pickup - A piezo pickup.
Impedance - To simplify things as much as posssible we'll say that impedance refers to the range in which an amplifying device can 'hear' a pickup plugged into it.
Preamp - A device specifically designed for use with piezo pickups that increases the signal strength and lowers the impedance of a passive pickup.
Active Pickup - A piezo pickup with an attached preamp.
Microphone Preamp - a device that may be built into P.A.systems and mixers that is designed to work with microphones. These units will not generally work with passive pickups.
'Normal' Electric Guitar Amps: A passive pickup has an impedance of approximately 2 mega ohms (2 million ohms) which virtually all 'normal' electric guitar amps can generally handle without issue.
'Acoustic' Amps: may or may not require the use of a preamp with a pickup and that will depend upon whether or not there is a special built in preamp section to that amp that specifically allows for the choice in plugging in either a passive (non-preamped) or active (preamped) pickup. This choice is quite often in the form of pushbutton on the amp's control panel. Many acoustic amps show a selection that may indicate the choice of 'high impedance' and 'low impedance'.
Low impedance in these instances usually indicates that in this range the amp will handle an impedance of 1000 ohms or less - which will allow active pickups with preamps to be used.
High impedance in these instances may indicate an allowable impedance into the 2 or 3 mega ohm range - which will allow passive pickups to be used. Or it may indicate a maximum input impedance allowed of 20,000 ohms or less - which will handle magnetic electric guitar pickups but not passive pickups. You should carefully read the technical specifications of your acoustic amp in order to see what it will do.
P.A. Systems, Mixers: all of these units will require the use of a preamp between themselves and a passive pickup. Microphone preamps built into P.A.'s and mixers are not designed for use with passive pickups and will not work properly.
Computers: Due to the vagaries and variables inherent in the sound cards found in computers, the only thing that we can advise is that a preamp will almost certainly be necessary.