Schatten 'Dualie' Player Soundboard Pickups
Available In Two Models - One for Inside Mounting, One for Outside Mounting
| | |
| --- | --- |
| Dualie Player Inside'R | Dualie Player Outside'R |
Upgraded And Redesigned

More ResponsiveMore Responsive
Higher Output
Lower Profile
Lighter
New More Attractive Appearance

When we first debuted the original "Dualie" pickup approximately ten years ago, it was designed to be used on acoustic and classical guitars.......And then a funny thing happened: musicians discovered that they could stick the Dualie onto just about anything and that it worked and sounded great. Basically, if you have an acoustic instrument with a soundboard, then the Dualie will work well on it.

The pickup sensor is light in weight (a couple of ounces), and does not inhibit top movement or vibration.
Buy Now
Details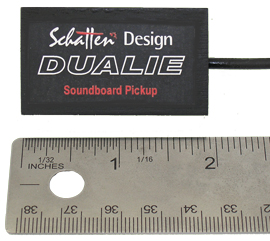 The "Dualie" is a surface mount piezo pickup. It is approximately 3/8" thick, 1 inch wide, and 2 inches long....a little bit smaller than the size of what used to be a 10 cent box of wooden matches.
This pickup has been designed to operate properly and sound terrific without the use of a preamp when plugged into any 'normal' amp (guitar amp, bass amp, etc.). As with any pickup, the sound can be further enhanced with an outboard preamp. If you require the added ability to be able to plug directly into a P.A. or mixer then you may wish to add either one of our new Mini Pre belt clipable preamps to your pickup system.
It is light in weight (a couple of ounces), and does not inhibit top movement or vibration.
Pictures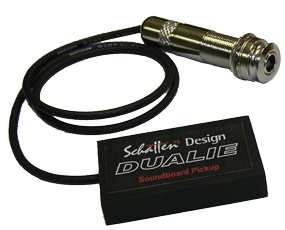 Dualie Inside'R
---
Dualie Outside'R
---
Technical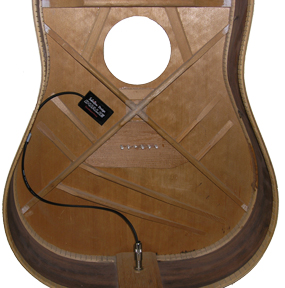 The Dualie Inside'R comes prewired to a take-apart endpin jack. All that needs to be done is to drill a hole in the end block to push the jack through. The endpin jack tightens securely from the outside and provides secure attachment for your strap. For inside installation, the Dualie comes with a special high stick putty that will keep the pickup in place without any difficulty for years.
See: Dualie InsideR Installation Video (6 minutes)

Inside'R - View Installation Instructions (pdf)

---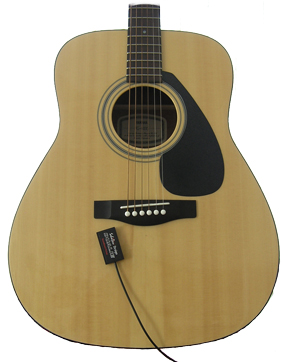 The Dualie Outside'R may be used on any small to medium sized soundboard such as on a steel string 6 or 12 and on any classical. The pickup attaches quickly and easily with our special supplied low residue putty for outside mounting. The Dualie Outside'R comes complete with a 10 foot Mogami shielded cable and a standard 1/4"heavy duty output plug and is ready to plug right into your amp.

Outside'R - View Installation Instructions (pdf)

Artists
Yesterday I received my new Dualie InsideR. I wanted to install it in my Little Martin(LXM Java Mahogany) but the sound hole is so small on it there was no way I was going to be able to do it. So I drilled out the hole for the end pin Jack and left the rest of the installation to my 13 year old son whos hand would fit though the sound hole. So to anyone who wonders if they can handle the installation wonder no more.
I plugged it into my Fender Acoustasonic Amp and was truly impressed with the sound. The tone is every bit as good in the $350 guitar as it is with my Fishman in My HD-28($3000) I cant wait until Saturday when we jam and see the looks on the guys faces when they hear the big sound coming from this Little guitar. Fantastic product and you cant beat the price.
Jay Wells
---
Hi:

Saturday evening I played in a big cluster of performers - at times as many as 15 of us on stage - and my Schatten Dualie stole the show. It was the first time I had used a Dualie at a gig.

Properly placed, and with an appropriate pre-amp, the Dualie sounds exactly like my guitar (Martin OM-21) played through a modest Fender acoustic amp. After the show, I had more compliments on the sound of that pickup than anything else we did on stage. The comments came from other musicians, people in the audience and the club owner himself. It was really amazing.

My favourite question was: How did you get a studio mic inside your guitar?

The answer: Well, I am not sure how they got the studio mic inside the Dualie, sir, but I am sure glad you know what it is. A lot of folks have been asking about my pickup.

Will Senger
Enfield, NS, Canada

---
Hi there.
I have one of your pickups, a Dualie, fitted to my Ozark Bouzouki. I had it set up by Andy Perkins (your UK dealer). I play with the Central Scotland Police Ceilidh Band, , with the Grand Boys, I also play pubs, etc. I play both guitar and bouzouki through an external preamp and a Boss graphic pedal......The bouzouki signal is terrific, clear, and well balanced with remarkable feedback resistance. If my guitar didn't already have a pickup fitted, I'd have one of yours for that as well.

Thanks for the sounds!!
Adrian Robertson

---
M.V.N.Murthy

Dear Les,

I am back in Madras and just wanted to say thanks for replacing the old pick up with the new Dualie. I used it on my Veena in my performance at Dundas on 31 May and it sounded wonderful.

I have some pictures of my Veena with Dualie sitting on top. If you would like to see it I can send it across....

Best regards and thanks again.

Murthy

------------------------------------------------------
M.V.N. Murthy
The Institute of Mathematical Sciences
CIT Campus, Chennai 600 113.
murthy@imsc.res.in

---
Just thought I'd drop you a note to say hello. I am still very pleased with my Dualie pickup. After mentioning it repeatedly on acoustic guitar forums such as the one at http://www.harmony-central.com as well as posting some MP3 recordings I made using it, finally others are starting to listen. One guy from the harmony-central forum I know just ordered his second Dualie. His name is Tom and he's from Florida. He's got some really nice sounding recordings he made using the Dualie.

Most pickup makers these days are putting up sound samples of their pickups. I'm wondering if you've thought anymore about doing this. I'm sure Tom would allow you to use some of his and you are welcome to some of the short clip I've recorded. I recently got a new guitar, It's a Breedlove AC200/SM from their Atlas series of guitars (just over $300 us dollars, but sounds and plays GREAT. wonderful for the price). I recorded some clips of the Dualie on that guitar and have gotten some really positive feedback from other players on the sound..........I've tried pickups made by: K&K sound, Pick-Up-The-World, and B-band. All of them were good, but the Dualie is my favorite.

Thanks again for a great pickup!
Sincerely,
Jeremy Gargus



---
Well, I received the Dualie yesterday (fri the 17) and have been playing around with it ever since. I really had no idea what to expect. I don't usually buy something without trying it first. I must say I'm very pleased with the results, the Dualie is an excellent product. My guitar sounds wonderful through my Line 6! This was the perfect pickup for my needs, no drilling and I can use it on another guitar( when I can find the right 12 string).

The dualie blows away any other stick on pickup I've ever tried and it really reproduces the full sound of my guitar.
Thanks for a great Canadian product at a great price.
Cheers, Doug Lick.

---
......well after 2 days of tinkering around and trying the dualie in various guitars I have come to love this thing. I was able to try it in my old Yamaha compared to the fishman natural that I put in it a few years back. The fishman does not even sound like a guitar. I must add that this is using the outside mounting method..... so I will now go to the inside mounting on my Seagull M12 which is why I bought the dualie in the first place. I think I will order another one shortly to install in my beater or Yamaha. Great product, great price and great service.

Thanks to all
John Fraser Chelsea QC

---
About Pickups & Amps
Terminology
Passive Pickup - A piezo pickup.
Impedance - To simplify things as much as posssible we'll say that impedance refers to the range in which an amplifying device can 'hear' a pickup plugged into it.
Preamp - A device specifically designed for use with piezo pickups that increases the signal strength and lowers the impedance of a passive pickup.
Active Pickup - A piezo pickup with an attached preamp.
Microphone Preamp - a device that may be built into P.A.systems and mixers that is designed to work with microphones. These units will not generally work with passive pickups.
'Normal' Electric Guitar Amps: A passive pickup has an impedance of approximately 2 mega ohms (2 million ohms) which virtually all 'normal' electric guitar amps can generally handle without issue.
'Acoustic' Amps: may or may not require the use of a preamp with a pickup and that will depend upon whether or not there is a special built in preamp section to that amp that specifically allows for the choice in plugging in either a passive (non-preamped) or active (preamped) pickup. This choice is quite often in the form of pushbutton on the amp's control panel. Many acoustic amps show a selection that may indicate the choice of 'high impedance' and 'low impedance'.
Low impedance in these instances usually indicates that in this range the amp will handle an impedance of 1000 ohms or less - which will allow active pickups with preamps to be used.
High impedance in these instances may indicate an allowable impedance into the 2 or 3 mega ohm range - which will allow passive pickups to be used. Or it may indicate a maximum input impedance allowed of 20,000 ohms or less - which will handle magnetic electric guitar pickups but not passive pickups. You should carefully read the technical specifications of your acoustic amp in order to see what it will do.
P.A. Systems, Mixers: all of these units will require the use of a preamp between themselves and a passive pickup. Microphone preamps built into P.A.'s and mixers are not designed for use with passive pickups and will not work properly.
Computers: Due to the vagaries and variables inherent in the sound cards found in computers, the only thing that we can advise is that a preamp will almost certainly be necessary.